Orlando Employee Benefit Plan Audit Services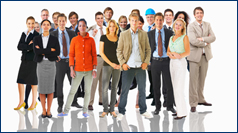 Why choose Glickstein Laval Carris, P.A. for your employee benefit plan audit? Our audit approach addresses the most common complaints indicated by companies. With our audits, you can expect:
Experience:
Our audit team to demonstrate knowledge and professionalism.
Experienced and specialized in employee benefit plan audits- Employee benefit plans are a complex and specialized area of accounting and auditing. Our benefit plan audit team has chosen benefit plan audits as their career specialty, and they have extensive experience and knowledge in the special auditing standards and rules that apply to plans.
Dedicated to being knowledgeable in the changing annual accounting and reporting requirements- Our employee benefit plan team completes a high level of accredited continuing education annually and stays current with the latest benefit plan audit issues and standards.
Participate in an independent Peer Review every three years and an internal audit quality inspection every year.
Members of the AICPA Employee Benefit Plan Audit Quality Center. Only 1% of the CPA firms in the United States qualify for this membership.
Reasonable Fees:
Our firm employs the following basic fixed fee structure for limited scope employee benefit plan audits:
| | |
| --- | --- |
| Number of Participants | Amount |
| <250 | $9,500 |
| 251-500 | $12,000 |
| 501-750 | $15,000 |
| 751-1000 | $16,500 |
For full-scope audits, plans with greater than 1,000 participants, or plans with special circumstances, please e-mail us and we'll contact you with a quote.
Service:
Our audit team provides responsive and timely service:
Streamlined audit process- Because we have a specific dedicated employee benefit audit team, we produce highly efficient audits with little interruption to you and your staff.
Responsive and timely service- Our dedicated professionals actively manage audits to provide responsive and timely service in the most efficient way possible.
Value added service- Our team does not just produce an audit report. We mentor, teach, and advise sponsors with regard to their plans. We recommend improvements within clients' systems or by having clients accumulate the necessary plan documents that are missing from administrator files.
For More Information on Employee Benefit Plan Audit Services
Contact Glickstein Laval Carris, P.A. today to schedule an appointment with one of our experienced Employee Benefit Plan Audit Professionals to discuss your current and future accounting options. Please call us today at 407-645-4775 or fill out the contact form on this page to send us a message.