Orlando Business Management Consulting Services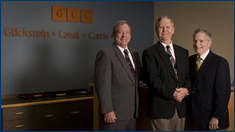 Management consulting is not a sideline at Glickstein Laval Carris, but a daily commitment to our clients. It is the cornerstone of Personal Partner Service.

We maintain complete availability for all types of management consulting opportunities, including the consideration of business plans, goals and objectives, policies and procedures, purchase or sale of a business, lease/purchase of fixed assets, computer consulting, cash flow analysis, employee screening or any other decisions required to be made by the business owner on a daily basis.
Orlando Business Mangement Consulting Professionals
Contact Glickstein Laval Carris, P.A. today to schedule an appointment with one of our experienced Orlando Business Management Consultants to discuss how we can help your business. Please call us today at 407-645-4775 or fill out the contact form on this page to send us a message.