Orlando Tax Services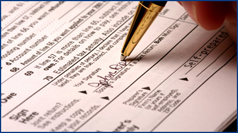 We are committed to providing our clients with clear, beneficial, and thorough tax advice. Our staff is knowledgeable in the latest changes in tax law to help you take every advantage possible while keeping you in compliance. For research and preparation we use major tax library services, and the latest state-of-the-art computer software, to plan and calculate the lowest taxes, and to help you make the wisest business decisions.
As tax advisors, Glickstein Laval Carris can provide:
Tax consultation and compliance
Personal tax planning
Business tax advice
Representation before tax authorities
Tax planning and research
Foreign taxation services
Litigation support
Business valuations
Business damages assessments
Corporate dissolutions
Pension and profit-sharing preparation and planning
Experienced Orlando Tax Professionals
Contact Glickstein Laval Carris, P.A. today to schedule an appointment with one of our experienced Orlando Tax Professionals to discuss your current and futuer tax planning needs. Please call us today at 407-645-4775 or fill out the contact form on this page to send us a message.